FIREKEEPERS CASINO HOTEL IS OFF TO A HOT START IN 2020
January was a huge month for players at FireKeepers with more than 4,880 jackpots and Red Lightning wins totaling $10,647,184! 263 of those wins were more than $5,000! The hot streak really took off on January 16, when a very lucky MoneyKeeper hit for $587,866 on a Wheel of Fortune Triple Gold slot machine. 11 other jackpots ranging from $5,000 - $15,000 were also awarded that evening, with a total of 172 hand pay jackpots!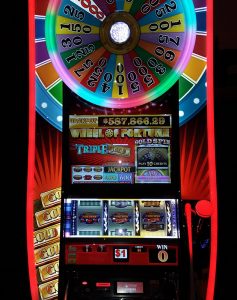 "This is the kind of excitement players have come to expect of FireKeepers," stated CEO Kathy George. "We look forward to a red hot 2020 with plenty more jackpots to come."
The excitement doesn't end with jackpots, though. FireKeepers is also the go-to casino for great promotions! Guests should be sure to play with their Red Hot Rewards Club card to earn perks, including entries to the major monthly promotions, including February's High Five Chevy SUV Giveaway and March's RV Giveaway! New members receive five dollars in Red Hot Credits, and can play for an additional prize up to $250 just for signing up. All Red Hot Rewards Club members receive restaurant, gift shop and fuel discounts. For a complete list of discounts and for additional information, visit firekeeperscasino.com/red-hot-rewards.