FIREKEEPERS CASINO HOTEL
After more than 10 years of planning, strategy, and vision, the Nottawaseppi Huron Band of the Potawatomi opened the doors to FireKeepers Casino in August of 2009.
---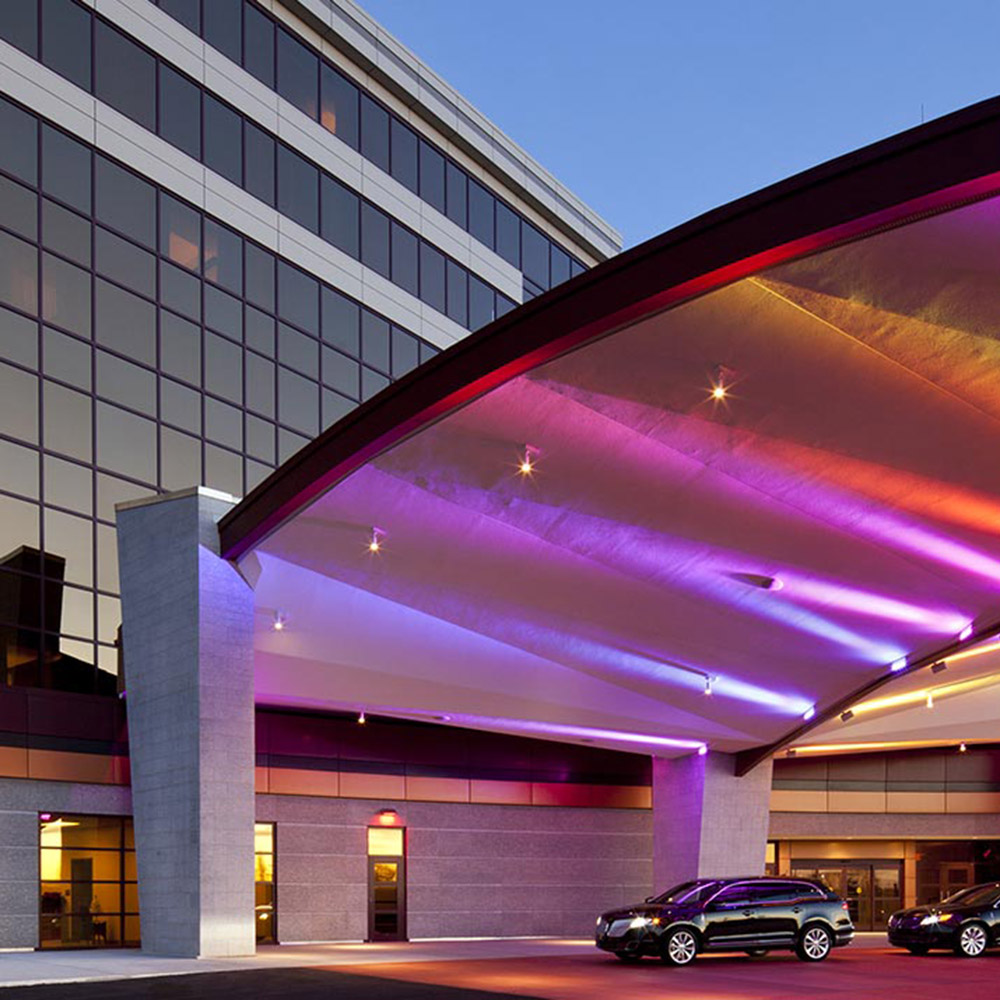 The property features a 111,700-square foot gaming floor with 2,900 slot machines, 70 table games, multiple restaurants and lounges, a live poker room, and a Sportsbook. This $300 million project created a unique gaming destination in the mid-west all while initially creating 1,500 jobs for the local community. FireKeepers Casino Hotel is located just off Interstate 94, at Exit 104, in Battle Creek, Michigan and is a favorite gaming destination for residents in central and southern Michigan, northern Indiana and western Ohio.
Less than two years later, on March 1, 2011, FireKeepers Casino broke ground on a major expansion. This initiative included an 8-story resort-style hotel. During this construction phase, the tribe's commitment to local spending resulted in awarding contracts that total more than $25 million to the State of Michigan.
FireKeepers hotel expansion opened its doors to the public on December 12, 2012. The expansion showcased a 243-room resort-style hotel complete with indoor pool, exercise facility, a full-service restaurant named Smoke 'n Fire, and business center. The addition also features a functional multi-purpose Event Center that is capable of seating up to 2,000 guests as a concert venue. When not in use as a concert venue for superstar performers such as Tony Bennett, Reba McIntyre, and Tim Allen, the versatile space can accommodate banquets, corporate meetings, trade shows, and other events. This expansion brought 300 additional jobs to the Battle Creek area.
FireKeepers' Hotel, in just over two years of operation, was named a Four Diamond Hotel by AAA, one of the hospitality industry's premier honors. The 243-room hotel, featuring 26 suites, earns an achievement that ranks FireKeepers as a premier establishment esteemed by AAA's professional inspectors. The Four Diamond recognition is given to just five percent of the more than 28,000 approved by AAA properties rated each year. FireKeepers has continued to receive this designation annually.
In April 2016, FireKeepers renovated guest favorite, Café 24/7 restaurant. The new design was developed by Kalamazoo architects, Seven Generations Architecture and Engineering, construction was directed by Moore Trosper Construction of Holt, Michigan. The refreshed atmosphere combines an old-school diner feel with new modern features such as contemporary lighting, stylish graphics, and a chalkboard wall to write specials.
Also in April 2016, FireKeepers announced another expansion to the property, which would introduce a convenience store and gas station located adjacent to the casino. The convenience store and gas station, named "FireKeepers Pit Stop", features a car wash, a convenience store with various food and beverage items, as well as a place to fill up your gas tank while visiting FireKeepers. The Pit Stop opened November 1, 2016.
Dacey's Taphouse opened in December 2016. A new restaurant and bar concept that focuses on Michigan's craft beer industry as well as great food, the Taphouse features a rustic atmosphere, with contemporary features opens to the casino floor and comfortably seats 175. It is now home to FireKeepers Sportsbook, where guests can wager on events from the four major sports: football, basketball, hockey and baseball along with NASCAR, boxing, MMA, soccer, championship golf, championship tennis and more! The Sportsbook also offers futures wagering on upcoming championships in major sports.
2017 marked the opening of The Fire Hub, a unique, multi-million dollar casino community reinvestment project, with FireKeepers Casino directly purchasing, redeveloping and creating a restaurant concept, and adjacent food pantry to assist those less fortunate in the community, all housed in a restored historic city firehouse near Downtown Battle Creek. Eighty percent of profits are pooled to benefit local charities, while twenty percent provide maintenance capital dollars. Another major element of the project is the development of nearby tribal lands to farm and grow vegetables, with a goal of delivering a free salad bar to students in area communities. Michigan Gov. Rick Snyder joined the Nottawaseppi Huron Band of the Potawatomi Tribal Council, owners of FireKeepers Casino Hotel, along with a large contingent of elected officials and key Michigan business partners to commemorate the Grand Opening.
Kathy George was named CEO in May of 2017, after serving for five years as General Manager and Vice President of Hotel Operations. Her commitment to service is not exclusive to her work, she is also very active in the local community. She is very active in the community, serving on several boards, assisting with fundraisers, and has served as the Tournament Director for the FireKeepers Casino Hotel Championship, a stop on the Symetra Tour – Road to The LPGA.
FireKeepers executive staff and leaders of the NHBP announced in July 2018, their plans to construct an additional hotel tower. With more rooms and potentially more meeting space, FireKeepers will be able to market and attract guests from greater distances, bringing new visitors to the area and boosting the local economy. The company broke ground on the expansion on June 17, 2019. The Expansion opened August 16, 2021.
The new hotel tower adds 203 rooms and suites, plus a transformed hotel lobby area, a new location for FireKeepers' signature restaurant Nibi, new high limit slot and table game areas and a new VIP lounge. The new hotel rooms feature upscale built-in décor along with the latest in guest service technology.
The welcoming 39,000 square foot first level delivers a vibrant new lobby bar and front desk while increasing the focus on the seven pillars which represent the Seven Grandfather Teachings of the Nottawaseppi Huron Band of the Potawatomi: Love, Respect, Bravery, Truth, Honesty, Humility, and Wisdom.
FireKeepers Casino Hotel took their gaming experience virtual adding the launch of FireKeepers iCasino and sportsbook website and mobile app in July 2021. With technology provided by Scientific Games (SG Digital), the platform includes the exciting slots and table games Michigan casino guests know and love, including 88 Fortunes, QuickHits, Monopoly, Blackjack, and Let it Ride. Plus, users can enjoy a wide array of wagering options on major sports, both American and international. The range of options includes football, basketball, hockey and baseball along with NASCAR, boxing, MMA, soccer, championship golf, championship tennis and more! Plus, futures wagering on upcoming championships in major sports. Rather than contract with an outside, national, brand known for iGaming, FireKeepers is instead leaning on the nearly 12-year success of their own brand.
In March 2022, with the help of Moore Trosper Construction Co., and Fishbeck Architecture, FireKeepers Casino Hotel transformed guest-favorite restaurant Smoke 'n Fire, from the moment guests arrive at Smoke 'n Fire, the mood of the dining room is set with smoky black and fiery red hues from the ground up, beginning with custom designed carpet. The lighting takes the eye up with crimson and orange; the treatments in the room continue the wood and smoke theme. With all of the design details culminating in a contemporary, high-end dining experience.